Condom sizes are not standardized because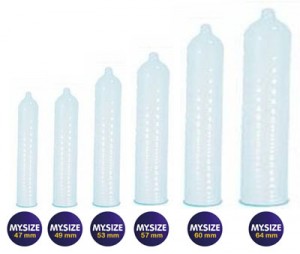 companies make them in different widths and lengths. In addition, condoms constructed from natural rubber can be stretched to accommodate different lengths. The following are just some of the condom types and sizes from various brands.
Durex Condoms
Their Close Fit style is 178 mm long and is 49 mm wide. The Durex Sensation condoms are also 178 mm long and 52 mm wide. The ribbed condoms are 179 m long and have a width of 53 mm.
The Elite, Tingle, Select Flavors, Extra Safe, Performa and Featherlite are all 205 mm long. Their minimum width is 42 mm and the maximum is 63 mm.
The Avanti Ultima condom size is 205 mm (length) and 52/63 mm (minimum and maximum width, respectively). The Comfort XL is 251 mm long and has a maximum width of 63 mm. The minimum width is 54 mm.
Lifestyle Condoms
The baggy, straight, ribbed, studded, and flared are all between 150 to 200 mm long. They are all 52 mm wide. The contoured style is between 160-200 mm long and 49 mm wide. Their extra large is 195-200 mm long and 56 mm wide.
Kimono Condoms
The textured, MicroThin (Ultra Lubricated/Ultra Thin) and thin are 190 mm long and 52 mm wide. Their MAXX and MicroThin Large styles are 195 mm long and 59.5/52 mm wide.
Why the Condom Size is Important
If the condom is too small, it can be very uncomfortable. If the condom is too big, it is going to slip off. A condom that is too large is a more likely problem.
Most of the condoms sold today are very stretchable. Often, the discomfort arises from a not so stretchable tip. In many cases, manufacturers make condoms that have the same body width as the standard condom, but the head is larger.
This is very beneficial because it's the condom head that is usually tight. The body size is hardly a problem because condoms today are very stretchable.
How to Find the Right Size
This can be tricky as condom brands have their own sizing systems. For example, brands have their own notion as to what is regular or extra large. The best option is to buy several types of condoms and see which fits you best.
What are Condoms Made From?
A condom is usually constructed from polyurethane or latex. Latex is more widely available and is considered by many as safer to use. The latex condom can only be utilized with water based lubricants. They cannot be used with lubricants that are oil based. Some people are allergic to latex. If that is the case, use polyurethane.
Polyurethane condoms are thinner than latex, so it is preferred by a lot of people. However they are not as flexible as latex and cost more. But water and oil lubricants can be used with them.
The many condom sizes means there is one guaranteed to fit you. Although there are still some who are hesitant about using condoms, the protection they offer against STDs makes them a must-have.