A lot of people don't put much thought into the condoms they are buying. Usually what happens is, snatch one up from the counter; pay and then leave. However, there are several things that one needs to consider when buying condoms.
From condom size to the durability or strength even to the color and flavor; these factors contribute greatly to your intimacy with your partner and more importantly, they provide you with protection from sexually transmitted diseases, among other things.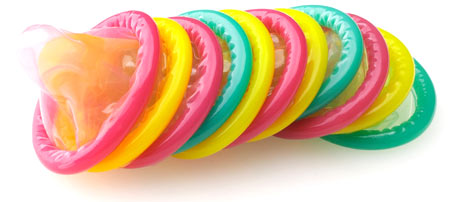 Condom Sizes
Sizes come in varying degrees, usually dependent on the maker or manufacturer of the condom. Before men can find the right fit, they usually have to try several brands or sizes first.
The sizes can differ in length or width and sometimes, they only differ on the size of the tip of the condom. Sometimes the length and the width are similar in size but the tip of one is slightly wider than the other.
The important thing to remember when figuring out the right size for condoms is that they should not be ill-fitting in that they are too tight since they could really be uncomfortable.
They should also not be loose even a small fraction.
On the average, the standard length of condoms is about one hundred and seventy-eight millimeters. Width measurement usually starts at forty-nine millimeters in diameter to fifty-three millimeters.
Again, depending on the brand, the minimum and maximum length and width may slightly vary.
The length can go as high as two hundred and fifty-one millimeters while the width can reach up to sixty-six millimeters.
Shapes, Colors and Flavors
Contrary to what others may think, condoms come in various shapes. The shapes of the tip are usually what are called a reservoir tip and a plain tip.
The length on the other hand can be ribbed or those that have bumps; form-fitting or those that are indented just under the tip; and flared, or those that have a wider tip.
After you have selected the shape that you want, next things to consider are the color and then the flavor. Colors vary, from red to pink, yellow, green and blue; you can take your pick of your favorite colors from a wide variety of colored condoms out in the market today.
There are likewise different flavors that condoms come in. A number of these are sweet while others have a mint flavor.
The shape, flavor and color can significantly add to your enjoyment of your private moment with your partner, hence; it is important to discuss both your preferences on condoms so you and your partner can enjoy your intimacy on the same level of satisfaction.